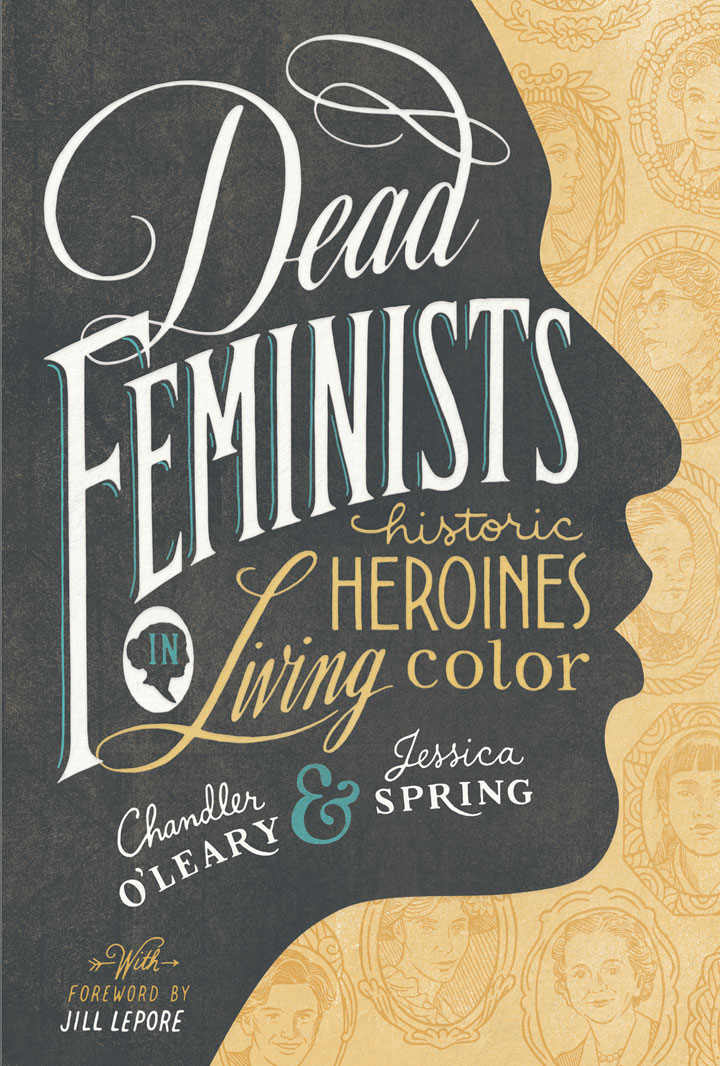 We are pleased to announce the publication of our first book! Dead Feminists takes feminist inspiration to a new level of artistry and shows how ordinary and extraordinary women have made a difference throughout history (and how you can too). Featuring a foreword by bestselling author Jill Lepore, Dead Feminists is published by Sasquatch Books. You can learn more and catch glimpses of our behind-the-scenes process on our blog.
Winner of a 2018 Pacific Northwest Book Award!
ISBN 978-1632170576
Release date: October 11, 2016
Hardcover, 7 x 10.5 inches, 192 pages
A portion of the proceeds from the sale of this book are donated to the Dead Feminists Fund. In honor of the power of women's work, the Dead Feminists Fund supports nonprofits that empower girls and women to create change in their own communities.
You can read our Pacific Northwest Book Award essay, "Collaborate," here.
Available wherever books are sold!
Order from your favorite retailer:
Want to order a signed copy?
Our local bookstore, King's Books, can ship a signed copy anywhere in the world! Simply place your order online (either in the previous link or by clicking the King's logo above), and in the "order comments" box mention that you want a signed copy, and whether or not you want the book personalized to a specific name.
Praise for Dead Feminists:
"Dead Feminists is a book for the long haul … simultaneously a finished work of art, a lavish visual representation of an ongoing creative process, and a practical model of how to sustain friendship, creativity, and purpose through a deep sense of history and a commitment to the future."
— Briallen Hopper, Los Angeles Review of Books
"At once a tale of claiming the process and technology to tell our stories and a history of women, this book introduces us to remarkable women we never knew, and reintroduces us to those we only thought we knew. These dead feminists, so often kept in the shadows, glow with life."
— Kseniya Thomas & Jessica C. White, authors of Ladies of Letterpress
"Dead Feminists offers well-researched and meticulously illustrated insight into some of America's inspiring historic heroines—but it also goes way beyond that. This book is a profound and super-smart look at feminist craft, creation, and collaboration, and reminds us that what goes on behind the scenes can be just as powerful as the finished product. I am so grateful to Chandler and Jessica for allowing us into their radical world."
— Kate Schatz, author of Rad American Women A-Z and Rad Women Worldwide
"Fierce, feminist, and forceful, the fascinating words and incredible historical images in Dead Feminists brings the stories of these women to life like never before."
— Sam Maggs, author of The Fangirl's Guide to the Galaxy and Wonder Women

"A very warm welcome to Dead Feminists. The world wants it."
— Jill Lepore, author of The Secret History of Wonder Woman and Joe Gould's Teeth
Save
Save
Save
Save
Save
Save
Save
Save